Need dinner in a hurry? Our healthy veggie-based pumpkin dahl is ready in under 30 minutes. Best of all? You only need one pot!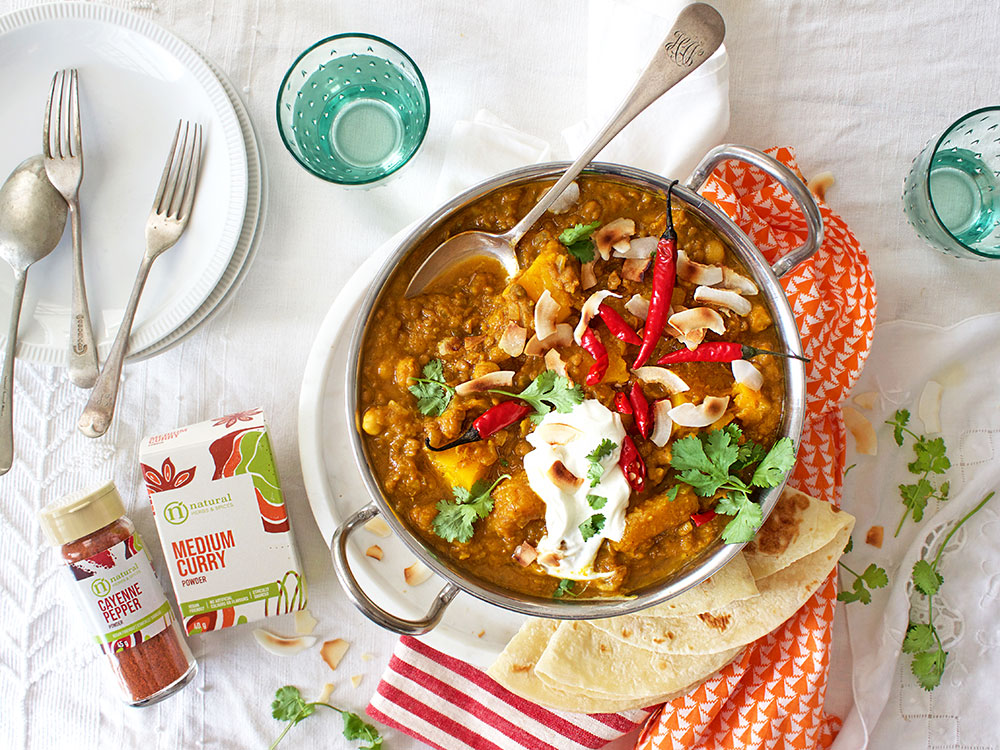 What you will need
1 large onion, finely sliced
3 tsp vegetable oil
1kg pumpkin or butternut cut into 4cm blocks (make it easy on yourself and cut down on prep time by buying the ready chopped version at your supermarket)
1 heaped tsp finely grated fresh ginger
2 cloves garlic, finely minced
1 Tbsp tomato paste
2 Tbsp Natural Herbs & Spices Medium or Hot Curry Powder
1 tsp Natural Herbs & Spices Cayenne Pepper
TO SERVE
Third of a teaspoon salt
Plain yoghurt
1 stick cinnamon
Coriander leaves
1 cup reduced-fat coconut milk
Chopped red chillies
1 cup water
Toasted coconut
1 x 400g tin of lentils, rinsed and drained
Rotis, optional
Half a 400g tin of chickpeas, rinsed and drained
Method
Fry the onions in oil for five minutes. Next add the pumpkin, garlic, ginger and tomato paste and fry for a further two minutes. Add the rest of the ingredients, except the lentils and chickpeas, place the lid on and cook for ten minutes.
After ten minutes you can add the lentils and chickpeas. Cook until pumpkin is soft – it takes about 20 minutes. To serve, top with yoghurt, coriander, red chillies and toasted coconut flakes. This dahl is perfect just as is, but if you want to bulk it up with a carb, serve it with some rotis.
Recipe concept & photography by Lizet Hartley.
Lizet Hartley is a freelance stills and reel food stylist, food photographer and recipe developer. In her spare time she – rather predictably – cooks. Get more of her recipes on her blog at http://www.melkkos-merlot.co.za