Cauliflower Tabbouleh Salad with Grilled Steak
A modern twist to a classic Middle-Eastern salad that swaps bugler wheat for cauliflower, making it low carb, nutritious and gluten-free. This salad is filled with juicy plump tomatoes, cooling crunchy cucumber, finely chopped red onion and tons of fresh herbs. All dressed up with a lemon and garlic dressing, as well as a touch of salt and pepper to bring out all the flavours. A summer salad would not be complete without a braai, so grab a few steaks and toss them on the braai and serve them up with this fresh and vibrate salad.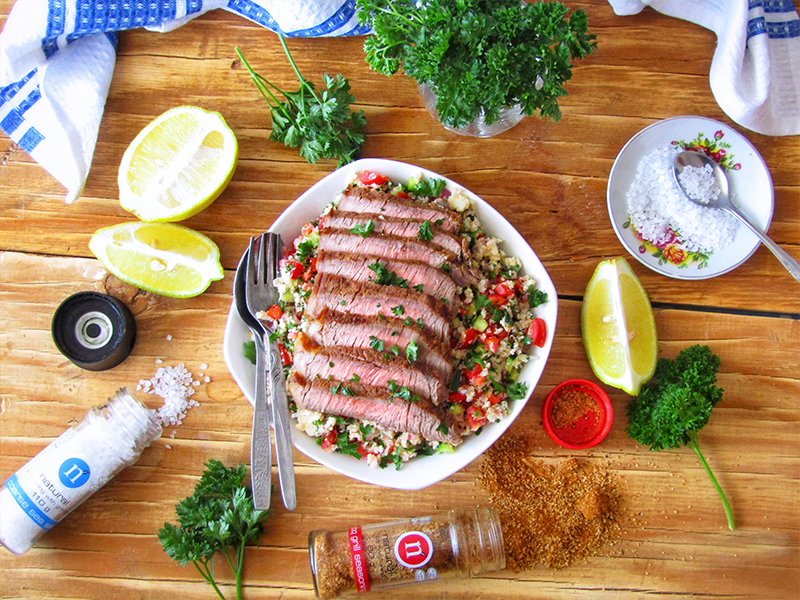 What you will need
STEAKS
4 beef steaks
2 Tbsp canola oil
Natural BBQ Grill
SALAD
1 medium cauliflower head, rinsed and dried
Natural Herbs & Spices Sea Salt and Black Pepper, to taste
½ English cucumber (diced)
4 tomatoes, diced
¼ red onion, finely chopped
2 Tbsp parsley, finely chopped
2 Tbsp mint, finely chopped
SALAD DRESSING
2 Tbsp olive oil
2 garlic cloves, minced
Juice and zest of ½ lemon
Method
Generously season steaks (We used Rump steak) with Natural Herbs & Spices BBQ Grill seasoning. Drizzle oil over the steaks and massage the oil and seasoning into the steaks. Leave to marinate for 30 minutes.
Meanwhile, coarsely grate the cauliflower head. Place grated cauliflower into a microwavable bowl, season with Natural Herbs & Spices Sea Salt and Black Pepper to your liking. Cover the bowl and microwave the cauliflower for 3 minutes. Allow the cauliflower rice to cool before you add in cucumber, tomatoes, onion and herbs.
In a small jar, combine all the salad dressing ingredients. If you like more garlic or lemon do not be afraid to add in more. Give the bottle a good shake and pour over the salad. Stir the salad to combine and taste the salad for seasoning. Cover and store the salad in the refrigerator while you prepare the steaks.
Cook your steaks over hot coals for 5-10 minutes depending on how you like your steak cooked. Serve the hot steaks, thinly sliced over the cold Tabbouleh salad and enjoy.
Recipe & photography by food stylist and blogger of everything wholesome & tasty, Yena Mgobhozi: https://www.yourkitchen-newgym.com