Curries are known for being calorific but, we have created a curry that slices the calories in half without compromising on taste and flavour.
To enjoy a delicious and tasty curry you don't have to rely on pre-made sauces. With our easy chicken korma recipe and our robust spices you can create a tasty dish, with the authentic flavours of the Middle East.
Whether you like curry spicy or mild you can fine-tune the recipe to suit your taste, we hope you enjoy!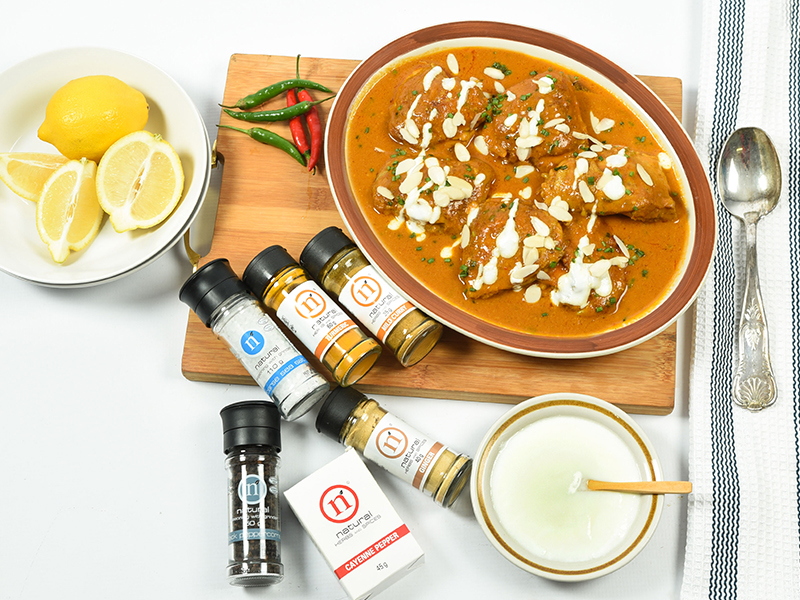 What you will need
6 chicken tights, skin on
Natural Herbs & Spices Ground Black Pepper
Natural Herbs & Spices Coarse Sea Salt
2 Tbsp olive oil
1 Medium onion, roughly chopped
2 cloves of garlic, finely chopped
2 small red chili, deseeded and finely chopped (optional)
¼ cup almond flakes, plus extra for garnishing
1 tsp Natural Herbs and Spices Cayenne Pepper
2 tsp Natural Herbs & Spices Ground Ginger
1 Tbsp Natural Herbs and Spices Mild Curry
1 tsp Natural Herbs and Spices Turmeric
1 Tbsp honey
4 large tomatoes, finely chopped
400ml light coconut milk
Chives, finely chopped
1 lemon
¼ cup plain low fat yoghurt
Method
Place chicken in a large bowl. Season the chicken with Natural Herbs and Spices Black Pepper and Sea Salt. Massage the spices into the chicken. Now, in a large frying pan on medium heat, fry the chicken in oil for 8-10 minutes on each side or until golden brown. You don't have to cook the chicken through, it will continue cooking in the creamy velvety korma sauce.
In the same pan the chicken was cooked, add in onion, garlic and chili. Cook the aromatics over a low heat for 5 minutes until the onion is translucent. Keep a close eye on it, so the garlic does not burn. Stirring occasionally will prevent burning. Scatter over almond and sprinkle in spices, cook for a further 5 minutes, stirring occasionally. Drizzle in honey, add in tomatoes and pour over the coconut milk. Generously season the sauce with Natural Herbs and Spices Black Pepper and Sea Salt. Allow the sauce to simmer on a medium low heat for 10 minutes or until the tomatoes are tender.
Using a hand blender, standard blender or food processor, blend the sauce until smooth and creamy. Time to submerge the fried chicken into the sauce, let the sauce completely cover the chicken. Cook the chicken over a low heat for 30 minutes, we suggest covering the pan with a lid, as the sauce can splatter out.
Finely, stir in some chives and squeeze over fresh lemon juice. Garnish this delicious curry with tangy yoghurt and crunchy flake almonds. Enjoy!
Recipe by food stylist and blogger of everything wholesome & tasty, Yena Mgobhozi: www.kitchennewgym.com
Photographer: Elsa Vermeulen- www. Elsavermeulen.co.za