Chunky Winter Vegetable Soup Served with Toasted Flat Bread
It's official, winter is here! Which means its time to cosy up with our very own warm and comforting soups. To say goodbye to the winter blues, try our creamy, chunky vegetable soup, which is sort of a cross between a stew and a soup - nothing wrong with that, we like two-in-ones. Hopefully you like them too.
To top it off, we've added a delicious, warm toasted homemade flatbread.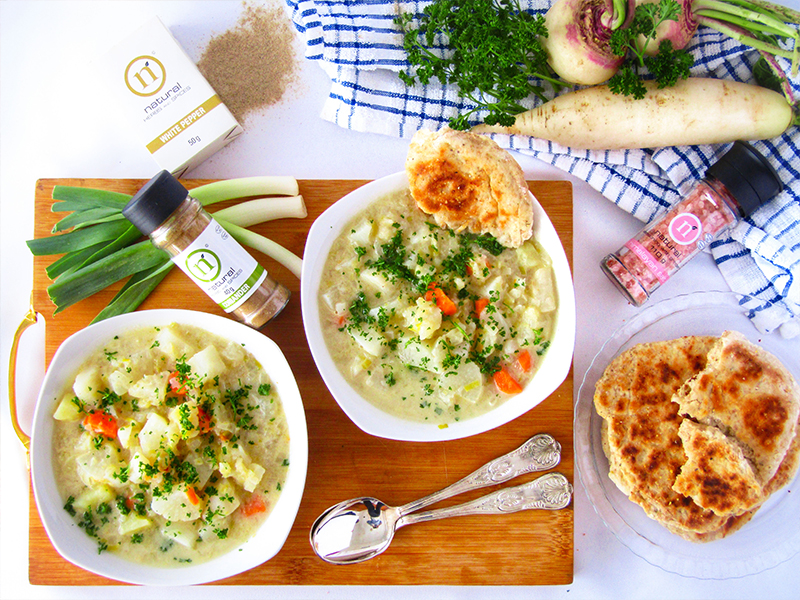 What you will need
FOR THE SOUP
2 Tbsp butter
1 lrg onion
125g/ 5 baby leeks, thinly sliced
2 garlic cloves, finely chopped
FOR THE FLAT BREAD
1 lrg/ 350g potato, peeled and roughly chopped
1 cup whole wheat flour
1 lrg/ 100g carrot, peeled and roughly chopped
¼ tsp Natural Herbs and Spices Himalayan Pink Salt
3 med/ 400g turnips, peeled and roughly chopped
1 tsp Natutral Herbs and Spices Oregano
1 lrg white/ 400g radish, peeled and roughly chopped
1½ tsp baking powder
1½ tsp Natural Herbs and Spices Ground Coriander
¼ tsp bicarbonate soda
Natural Herbs and Spices Himalayan Pink salt and white pepper to taste
1 cup plain yoghurt
1L vegetable stock
1 Tbsp olive oil
150ml fresh cream
½ tsp Natural Herbs and Spices Garlic
Fresh parsley, roughly chopped
Method
Start off by spooning the butter into a large pot and frying the onion, leeks and garlic, until onions are translucent and garlic is fragrant. Then toss in all the vegetables and season well with Natural Herbs and Spices Coriander, Pink Himalayan Salt and White Pepper.
Sauté the veggies for 5 minutes before pouring in vegetable stock. Cook the soup on a medium-low heat for 15- 20 minutes or until the veggies are cooked.
Meanwhile, mix together flour, Natural Herbs and Spices Pink Himalayan Salt, Oregano, baking powder, bicarbonate soda and yoghurt to form a sticky dough. Tip the dough onto a floured surface and divide into 4 even balls. Dust each ball with flour and flatten with a rolling pin. Cook the flat breads in a dry pan, on a medium heat until beautifully golden brown on each side. While the breads are still hot from the pan, brush over a mixture of oil, Natural Herbs and Spices Garlic and Pink Himalayan salt.
Now that the veggies are cooked smash veggies into small bites size pieces using a masher. Taste and if it needs more seasoning sprinkle in some salt and white pepper. Drizzle in a generous amount of cream, give everything a good stir and now you a ready to serve.
Ladle soup into serving bowls, sprinkle over fresh parsley and serve with the warm and toasty flat breads.
Recipe & photography by food stylist and blogger of everything wholesome & tasty, Yena Mgobhozi: https://www.yourkitchen-newgym.com