Ginger Beef and Broccoli Stir Fry
Pop the lid on a bottle of powdered ginger, and ginger biscuits immediately come to mind. But powdered ginger can also be magical in savoury dishes – like this super quick saucy ginger beef and broccoli stir-fry! Serve it with Jasmin rice, noodles or zoodles if you're avoiding carbs.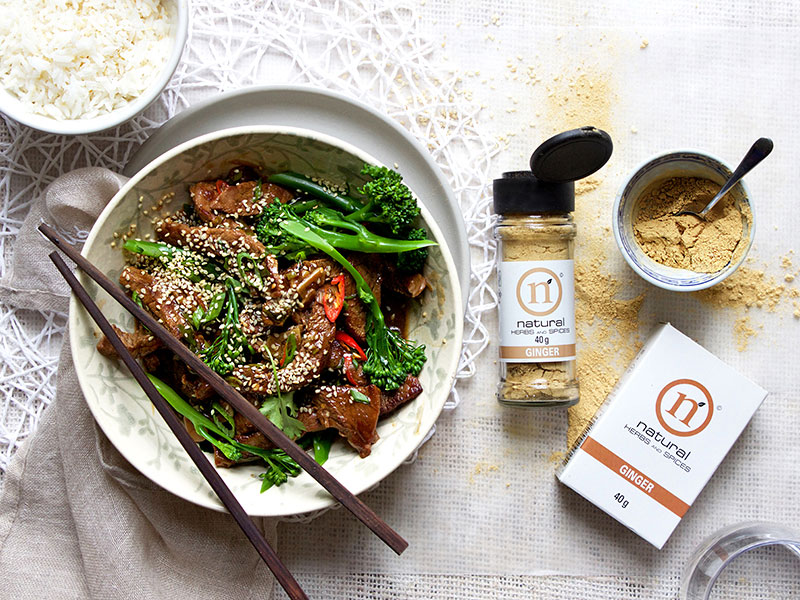 What you will need
2-3 Tbsp vegetable oil of your choice
1 packet tender stem broccoli
300g thin beef steak, finely sliced
1 tsp sesame oil
Bunch of spring onions, white parts only, finely sliced (reserve the green parts for garnish)
2 fat cloves garlic, finely sliced
Few thin slices of mild red chilli, de-seeded (optional)
½ tsp Natural Herbs & Spices Ginger
3 tsp soy sauce
3 tsp honey
GARNISH
1 cup water
Toasted sesame seeds
2 tsp corn flour, dissolved in 2 tbs cold water
Green stalks of spring onion, finely sliced
Salt, to taste
Fresh coriander
Method
Start off by halving the tenderstem broccoli spears lengthways so they cook faster and are easier to eat. Then stir-fry the broccoli in hot vegetable oil until just al dente. Remove and set aside. Add a bit more oil if necessary and fry steak strips in two batches in a very hot pan until just brown. Remove and set aside.
Turn heat down and add the spring onions to the same pan along with sesame oil, garlic slices, Natural Herbs and Spices Ginger and Chilli. Fry this for a minute or two, then add water, soy sauce and honey. Bring to the boil, then stir in corn flour slurry. Cook this for a minute or two until sauce starts thickening. Then return the steak and broccoli tothe pan to heat through. Taste and add a pinch or two of salt if need be.
Serve right away, garnished with sesame seeds (toasted off in a dry pan until golden), green spring onions stalks and coriander.
Recipe & photography by food stylist and blogger of everything yum, Lizet Hartley: http://www.melkkos-merlot.co.za