After all the food we have had over the festive season, its time to detox, using this season's favourite greens.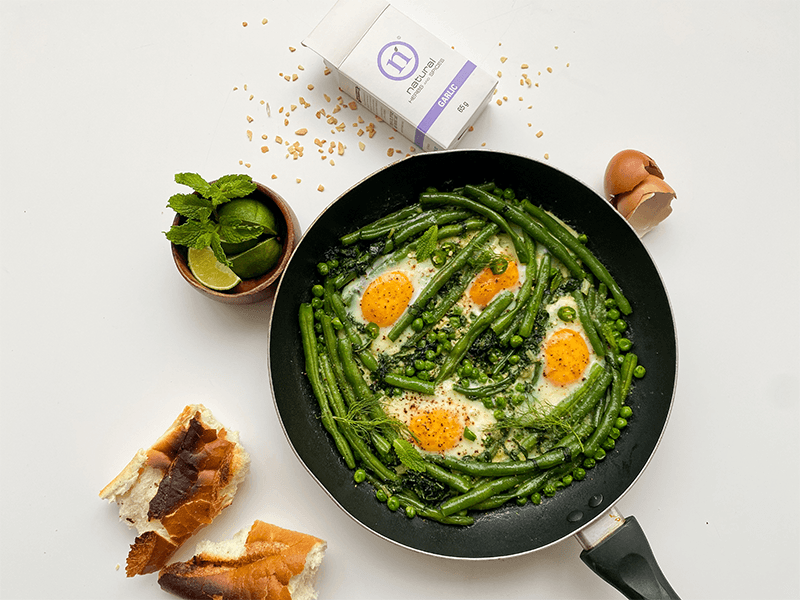 What you will need
250g green beans
100g peas
200g spinach, shredded
1 tsp olive oil
1 tsp butter
Natural Herbs & Spices Garlic Flakes
2 garlic cloves
2 tsp cumin seeds
4 - 6 eggs
50g finely diced onion
Dill for garnish
5g chopped mint
10g slices of green chilli (optional)
Method
Start off by bringing a pan of salted water to a boil then add the green beans and cook for 30 seconds. Add the peas and cook for another 30 seconds, then add in the spinach and cook for 2 seconds more before tipping everything out into a colander to drain.
Then heat 1 tbsp olive oil and add butter in a large frying pan. Cook the onion and Natural Herbs & Spices Garlic flakes and cloves until its soft, then add the cumin seeds. Stir in the blanched veg and cook for 3-4 minutes. Season, then make holes for as many eggs as you want and crack an egg into each space.
Keep cooking gently until the eggs are done how you like them (cover with a lid if you want to speed things up). Scatter over dill and fresh chilli and add another drizzle of olive oil before serving.
Recipe concept & photography by Chef Thabitha (@thabitha_chef and https://www.takeachef.com/en-za/chef/thabitha-makwakwa)