Macadamia Crusted Chicken with Summer Slaw
High summer calls for fresh, light meals you can whip up in seconds. This recipe ticks all the boxes. We elevate chicken breasts to something deeply delicious by giving them a nutty crust packed with flavour. To go with it? A green summer slaw with a vibrant lime dressing.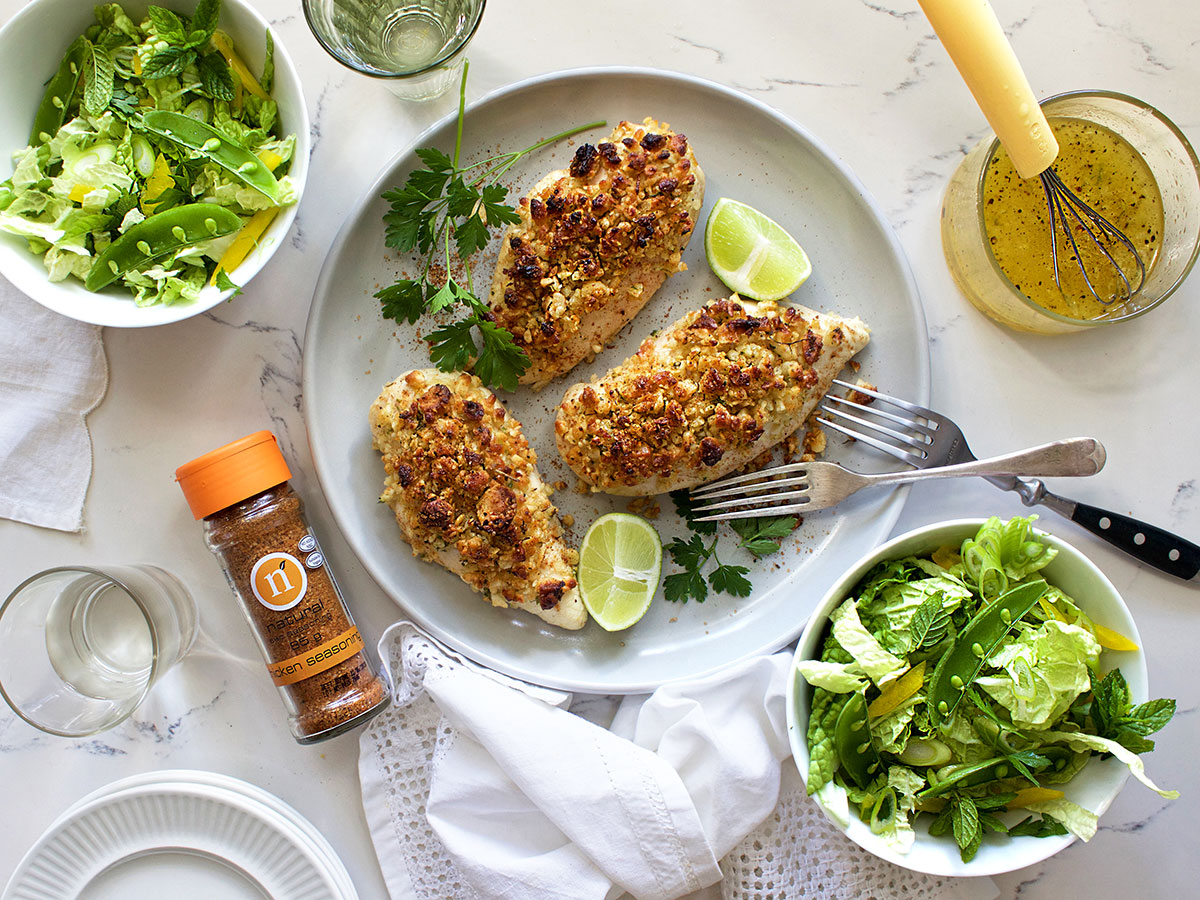 What you will need
FOR THE SUMMER SLAW
FOR THE NUTTY CRUST
2 cups finely shredded Chinese cabbage
200g packet of raw macadamia nuts
Small punnet of mange tout or baby peas in their pod
Large bunch of flat leaf parsley (a 20g punnet will suffice)
½ yellow pepper, finely sliced or diced
1 garlic clove, finely minced
Small handful of coriander leaves
Zest of one lemon, finely grated
Small handful of mint leaves
2 Tbsp extra virgin olive oil
1 spring onion, finely sliced
½ tsp Natural Herbs & Spices Chicken
FOR THE LIME DRESSING: juice of 2 limes
FOR THE CHICKEN BREASTS
Zest of 1 lime, finely grated
6 skinless chicken breasts
2 Tbsp extra virgin olive oil
Extra virgin olive oil
1 Tbsp runny honey Chicken
Natural Herbs & Spices Chicken
Method
Brush the chicken breasts with olive oil and dust lightly with Natural Herbs & Spices Chicken Seasoning. Blitz the ingredients for the nutty crust together in a food processor, then spoon mix onto chicken breasts. Place chicken breasts on a baking tray lined with baking paper and bake in a 150˚C oven until cooked through. (NB: if the oven temperature is too high the nutty crust will burn before the chicken is cooked through.
Whisk all the dressing ingredients together and serve with the summer slaw and chicken breasts.
Recipe concept & photography by Lizet Hartley.
Lizet Hartley is a freelance stills and reel food stylist, food photographer and recipe developer. In her spare time she – rather predictably – cooks. Get more of her recipes on her blog at http://www.melkkos-merlot.co.za