Cooking Marinate for 1 hr; cook for less then 5 mins
The weather is warming up and that means… it's time to light the braai! These ostrich fillet foldovers are brilliant for the braai because they cook in under five minutes. And because we slice the fillet thin and bash it flat, 500g of meat really stretches to easily serve four people. They're soft and juicy with garlic and chilli cheek. Fold these moreish minute steaks into warm, soft flat breads along with frilly lettuce, cucumber ribbons, red onions, mint leaves, your favourite tomato chilli jam and a dollop of cooling yoghurt. Fold them over like a book and tuck in, no utensils required!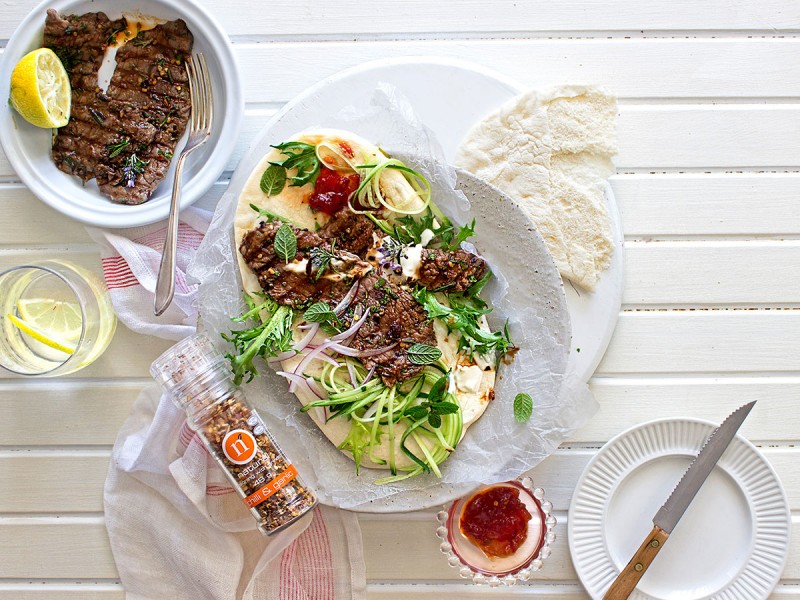 What you will need
500g ostrich fillet
TO SERVE
1 clove of garlic, finely minced
Flat breads of your choice, warmed up gently on the braai
2 sprigs rosemary, leaves stripped off and roughly chopped
Finely sliced red onion
4 Tbsp olive oil
Cucumber ribbons
Natural Herbs & Spices Chilli & Garlic
Mint leaves
1 lemon, zest and juice
Frilly lettuce
2 tbs chopped flatleaf parsley
Tomato chili jam (or plain chili jam, sweet chilli sauce or chutney)
Salt to taste
Full cream plain yoghurt
Method
Start off by cutting the fillet into 2cm thick slices then use a rolling pin to bash the steaks as thin as possible. Then season steak both sides with Natural Herbs & Spices Chilli & Garlic Spice. Place steak in a deep dish, add minced garlic and rosemary, and drizzle over olive oil. Work through with your hands to ensure everything is evenly coated. Cover dish with cling film and place in the fridge for at least an hour.
Next braai the ostrich minute steak over hot coals. Once done, place steak in a serving dish and scatter over the parsley and finely grated lemon zest. Give it another glug of olive oil and a generous squeeze of lemon juice and toss. Serve right away with the rest of ingredients and let everyone assemble their own perfect ostrich fillet foldover nibble. Remember to put the Natural Herbs & Spices Chilli & Garlic Spice on the table for a final grind of delish.
Recipe & photography by food stylist and blogger of everything yum, Lizet Hartley: http://www.melkkos-merlot.co.za