Roast Tomatoes with Savoury Yoghurt and Melba Toasties
Warmer weather means light and bright eating – preferably outside. We love large sharing platters of veggie-based treats for entertaining a crowd – like this recipe for slow-roast jammy tomatoes on savoury yoghurt. Grab some baguette melba toasties and tuck in!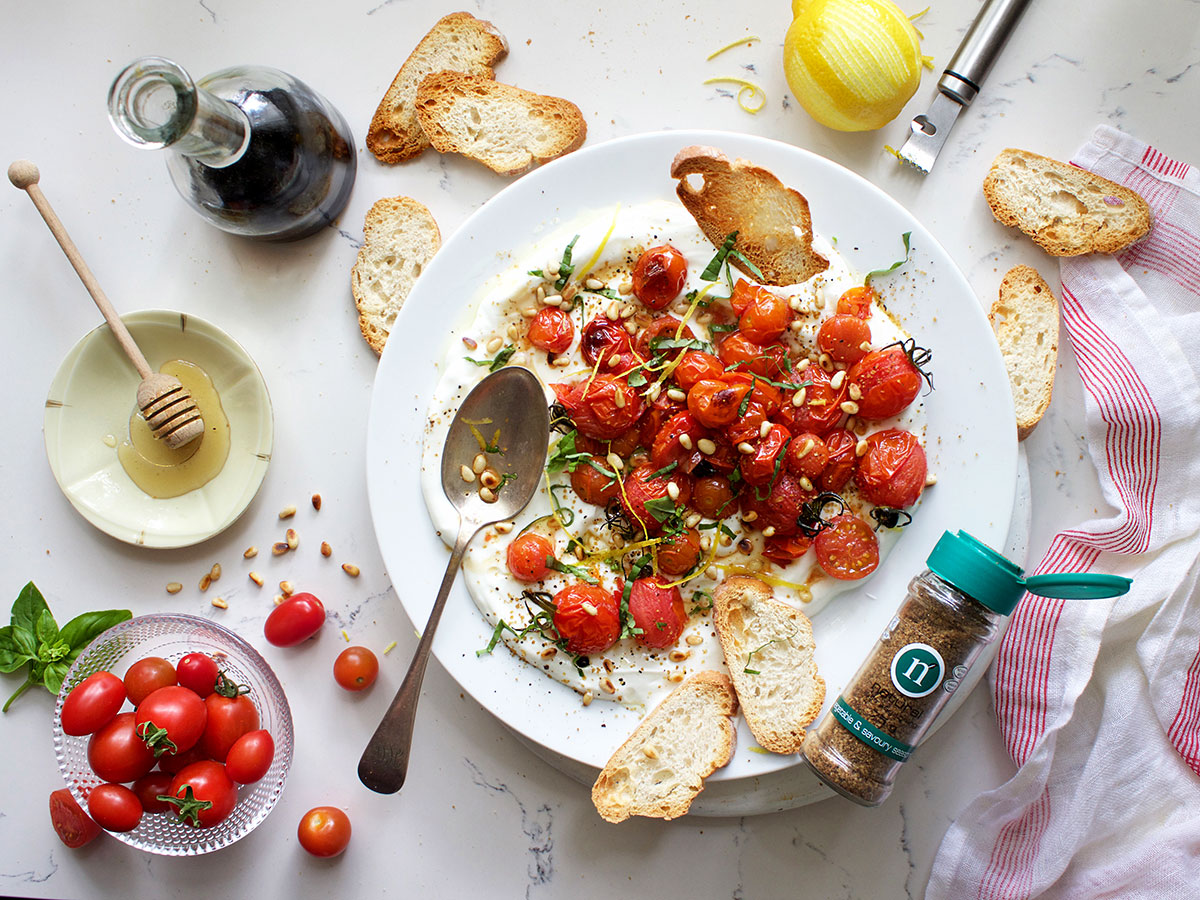 What you will need
FOR THE BAGUETTE MELBA TOASTIES
FOR THE SAVOURY YOGHURT
1 baguette
2 cloves garlic, finely sliced
FOR THE TOMATOES
2 Tbsp olive oil
500g baby tomatoes
3 cups double cream yoghurt
1 Tbsp olive oil
Natural Herbs and Spices Vegetable & Savoury
1 Tbsp runny honey
2 Tbsp pine nuts, toasted in a dry clean pan until golden
2 Tbsp balsamic vinegar
Zest of one lemon
2 cloves garlic, finely sliced
6 large basil leaves, finely sliced
Natural Herbs and Spices Vegetable & Savoury
Method
Start by making the melba toasties. Simply slice baguette very thinly and place slices on a baking sheet. Pop the bread into a 160 degree Celsius oven for 10-15 minutes until baguette slices are crisp. Remove bread and allow to cool. Put tomatoes in a large bowl. Pour over olive oil, honey and balsamic vinegar and mix to ensure tomatoes are thoroughly coated. Dust tomatoes with Natural Herbs & Spices Vegetable and Savoury Seasoning, add sliced garlic and toss once more. Tumble tomatoes onto a large baking sheet lined with baking paper and place in a pre-heated 160˚C oven to roast for 20-25 minutes.
Prepare the savoury yoghurt while the tomatoes are roasting. Place the two cloves sliced garlic and two tablespoons of olive oil in a small saucepan. Heat oil until quite hot, then remove from he heat and allow the garlic to infuse the oil. Once the oil is cool, lift the garlic out of the oil and discard. Spoon yoghurt onto a large platter and drizzle over garlic oil. Dust yoghurt with Natural Herbs & Spices Vegetable and Savoury Seasoning and add toasted pine nuts and lemon zest. Spoon warm roast tomatoes onto savoury yoghurt and sprinkle over basil. Serve right away with melba toasties.
Recipe concept & photography by Lizet Hartley.
Lizet Hartley is a freelance stills and reel food stylist, food photographer and recipe developer. In her spare time she – rather predictably – cooks. Get more of her recipes on her blog at http://www.melkkos-merlot.co.za