Spiced Roast Pumpkin Soup
Pumpkin has a bit of a retro vibe about it. It's been rather out of vogue the last few years with its shapely cousin, butternut, still the preference for many. And that's a pity because this fabulous jewel-coloured gourd has much to offer. The secret to making pumpkin that is call-for-seconds moreish? Don't boil it rather roast it. Instead of something vapid and watery, you end up with something sweet with nutty honeyed undertones, just perfect for a wintry soup.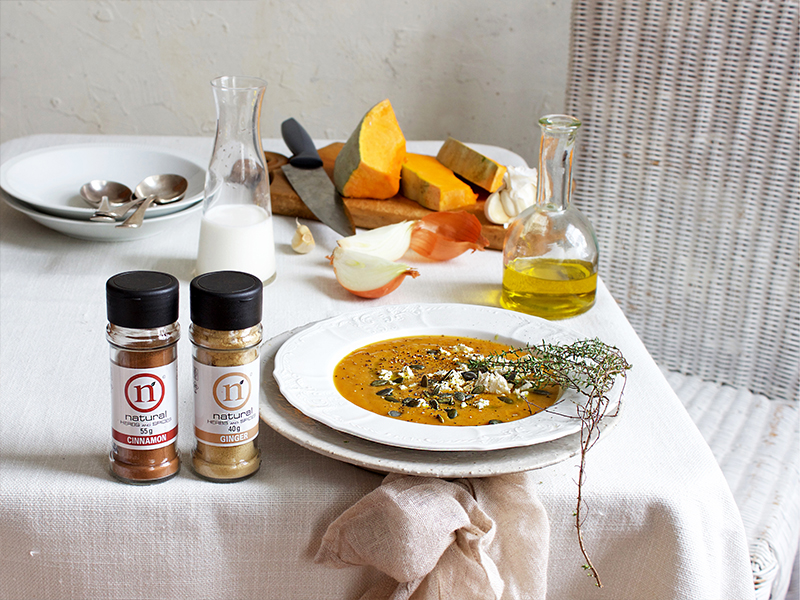 What you will need
1 kg peeled, diced pumpkin
2 large brown onions, peeled and quartered (NB: leave the root on!)
2 fat cloves garlic, whole and unpeeled
2 Tbsp olive oil
1 Tbsp runny honey
750ml chicken stock (use good quality liquid stock concentrate rather than stock blocks to make the stock)
¼ tsp Natural Herbs and Spices Ground Cinnamon
½ tsp Natural Herbs and Spices Ground Ginger
8 twists of your Natural Herbs and Spices Black Peppercorns
¼ cup cream (leave out for a super heart-healthy option)
Salt, to taste
Crumbled feta cheese, to garish
Pumpkin pips, to garnish
Method
Place the pumpkin, quartered onions and garlic in a large bowl, drizzle over honey and olive oil and toss to ensure everything is coated. Tumble onto a baking tray lined with baking paper (it makes cleaning up so much easier!) and roast in a preheated 200°C oven until the pumpkin is soft and caramelised – it takes 30-40 minutes.
Cut off the root from the onion quarters and squeeze the garlic puree out of the garlic casing. Place onions, garlic puree and pumpkin in a large stock pot. Add the spices and chicken stock and boil for 5 minutes. Use a stick blender to blitz the soup until velvety smooth. (If it is very thick, you can add a dash of water at this point.) Place back on the heat and add the cream if using. Taste for salt at this point and adjust accordingly. How much you need to add depends on the saltiness of the stock you used, so let your palate guide you. Garnish with feta and pumpkin seeds and tuck in.
Recipe concept & photography by Lizet Hartley.
Lizet Hartley is a freelance stills and reel food stylist, food photographer and recipe developer. In her spare time she – rather predictably – cooks. Get more of her recipes on her blog at http://www.melkkos-merlot.co.za