Spicy Braai Pork Fillet with Rainbow Slaw
Heritage Day; welcoming in spring and… lighting a braai fire! Yup, September is the month when we shake off the shackles of winter and celebrate all things South African – most especially long, lazy lunches al fresco. If you're watching the fat content of what you put on the braai, few things could beat lean pork fillet. We turn up the heat with a spicy baste that really zings on a plate.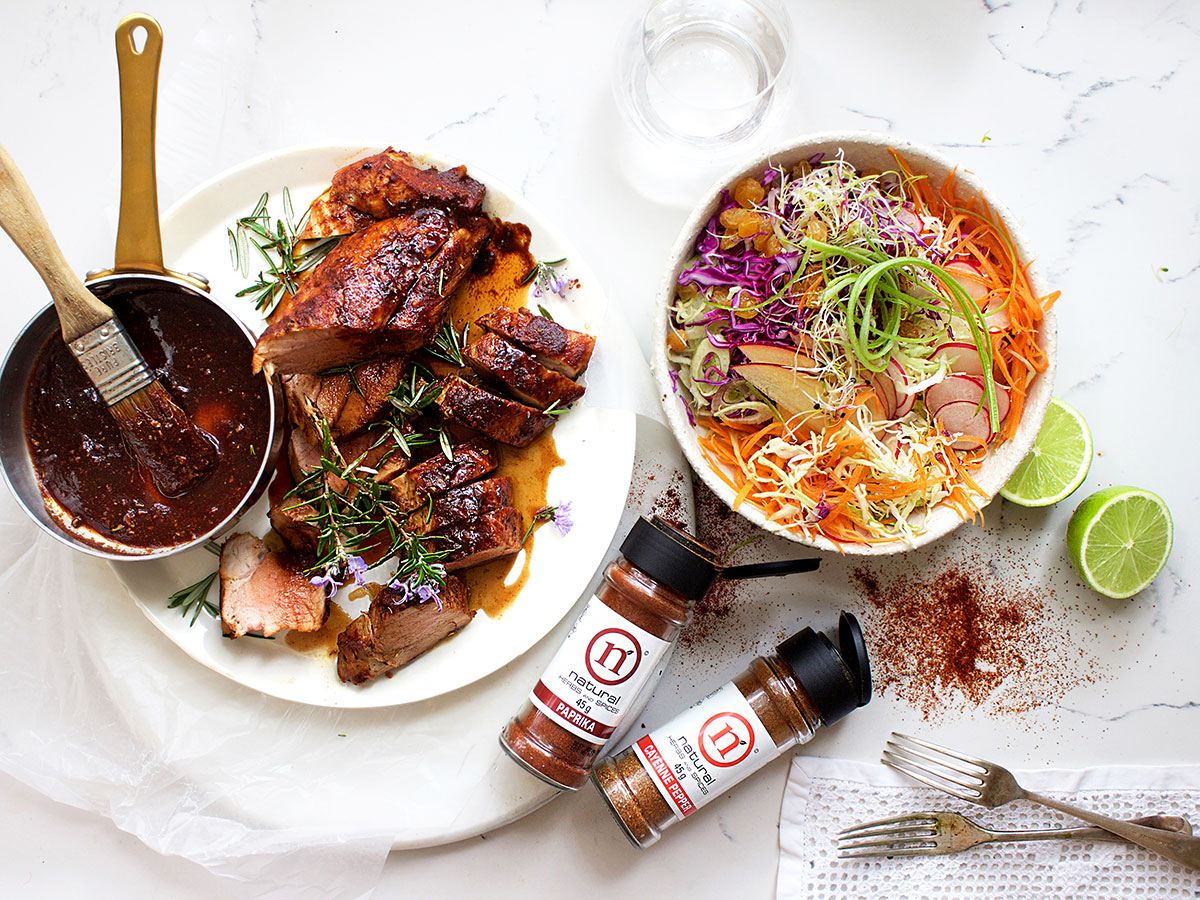 What you will need
FOR THE BASTE
FOR THE RAINBOW SLAW
¾ tsp Natural Herbs & Spices Cayenne Pepper
1 small red and 1 small green cabbage
1½ tsp Natural Herbs & Spices Paprika
6 radishes
1 Tbsp runny honey
2 sticks celery
½ Tbsp dark soy sauce
A fennel bulb
1½ Tbsp Worcestershire sauce
2 large carrots
1½ Tbsp tomato sauce
Handful of golden sultanas
1 clove garlic, finely minced
1 small red apple
1 sprig rosemary, leaves stripped and finely chopped
FOR THE FILLET
FOR THE SALAD DRESSING
1kg pork fillet
4 Tbsp fresh lime juice
Olive oil
1 Tbsp runny honey
Salt
1 tsp Dijon mustard
Black pepper
1 Tbsp extra virgin olive oil and a generous pinch of salt
Method
Paint the pork fillet with olive oil and lightly dust with salt and freshly ground black pepper. Place the fillet over hot coals. Mix together baste ingredients. Generously paint fillet with baste for the final ten minutes of cooking. (NB: in days gone by it was the norm to cook pork very well. The modern way of doing it is to have just the teeniest bit of pink. This is especially important when cooking fillet, as it's such a lean cut.)
Remove cooked fillet, cover with tinfoil to keep warm and allow it to rest for at least five minutes before slicing.
Add all the salad dressing ingredients to a bottle with a screw cap and shake vigorously. Chop/slice the slaw ingredients any way you like and pour over dressing.
Recipe concept & photography by Lizet Hartley.
Lizet Hartley is a freelance stills and reel food stylist, food photographer and recipe developer. In her spare time she – rather predictably – cooks. Get more of her recipes on her blog at http://www.melkkos-merlot.co.za