Spicy Puttanesca with Spinach
Not really in the mood to cook but still need to eat? There's an awful lot you can whip up in 30 minutes or less, especially anything involving pasta, like this recipe for that classic dish, puttanesca. We keep things healthy, by using wholewheat pasta packed with fibre. And we add in-season spinach too because it's just so good for you.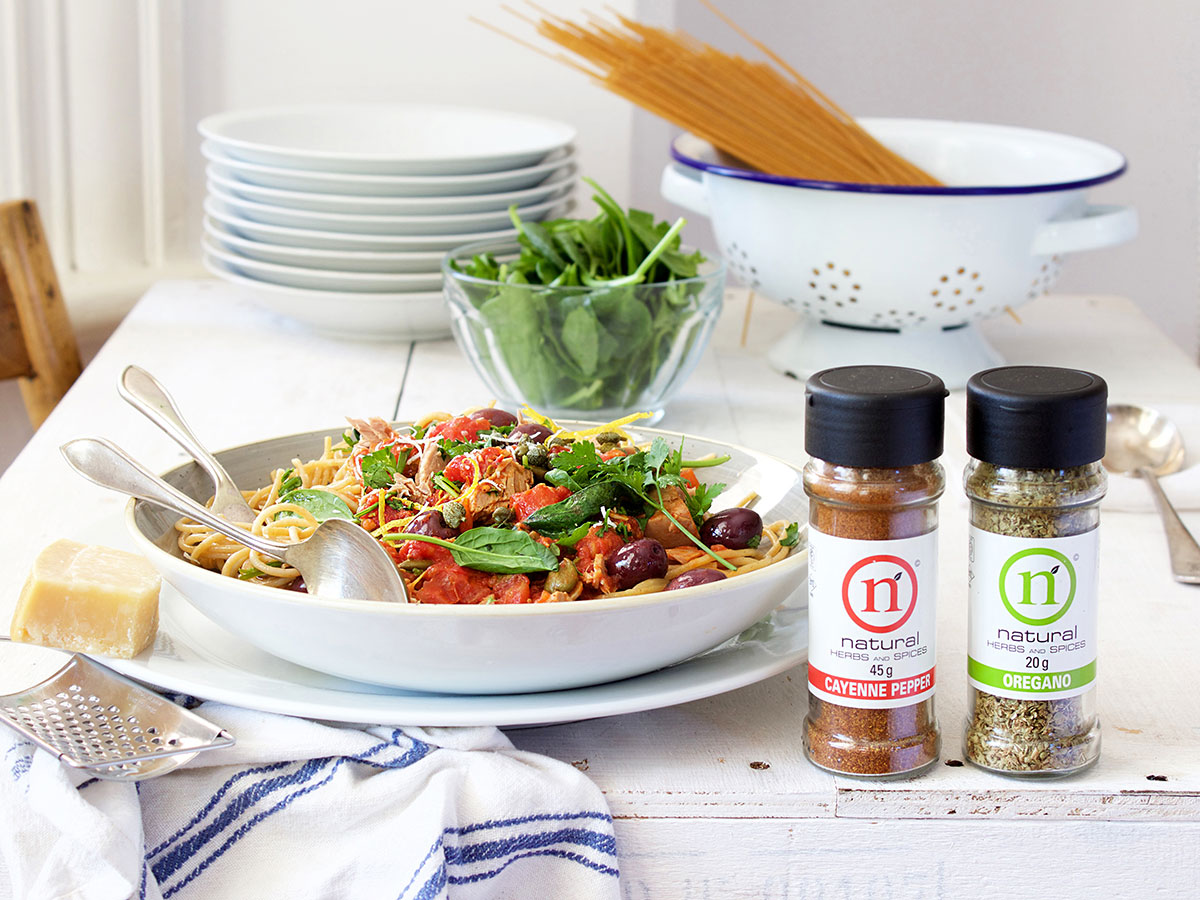 What you will need
2 plump cloves garlic, finely sliced
2 Tbsp olive oil
2 x 400g tins of chopped tomatoes
1 tsp sugar
1½ tsp Natural Herbs & Spices Oregano
¼ tsp Natural Herbs & Spices Cayenne Pepper
¾ tsp salt
3 Tbsp capers
15 black olives
Juice of half a lemon
Zest of one lemon
2 x 170g tins of solid meat tuna, drained
2 cups baby spinach
Handful of flat leaf parsley, chopped
Packet wholewheat spaghetti, cooked until al dente in plenty of salted water
Aged parmesan or pecorino cheese, to serve
Method
Fry the garlic in olive oil over low heat for two minutes. Add the tomatoes, sugar, salt, Natural Herbs & Spices Oregano and Cayenne Pepper. Put lid on and simmer over low heat for 10 minutes. Add the capers, olives, lemon juice, half of the lemon zest and tuna and simmer over low heat for a further five minutes. Stir in the baby spinach. Dish up with cooked spaghetti, scatter over the other half of the lemon zest as well as parsley. Grate over parmesan or pecorino and tuck in!
Recipe concept & photography by Lizet Hartley.
Lizet Hartley is a freelance stills and reel food stylist, food photographer and recipe developer. In her spare time she – rather predictably – cooks. Get more of her recipes on her blog at http://www.melkkos-merlot.co.za