Serves Makes 6 - 12 canapes
Canapés, tiny bites, little nibbles – whatever you want to call them, veggie based recipes are perfect for snacking on as the weather starts warming up. We share our recipes for carrot and beetroot fritters with a cooling herb raita, curried cauliflower florets in a crispy thin Asian-style tempura batter and rainbow rice paper rolls with a spicy dipping sauce. Enjoy!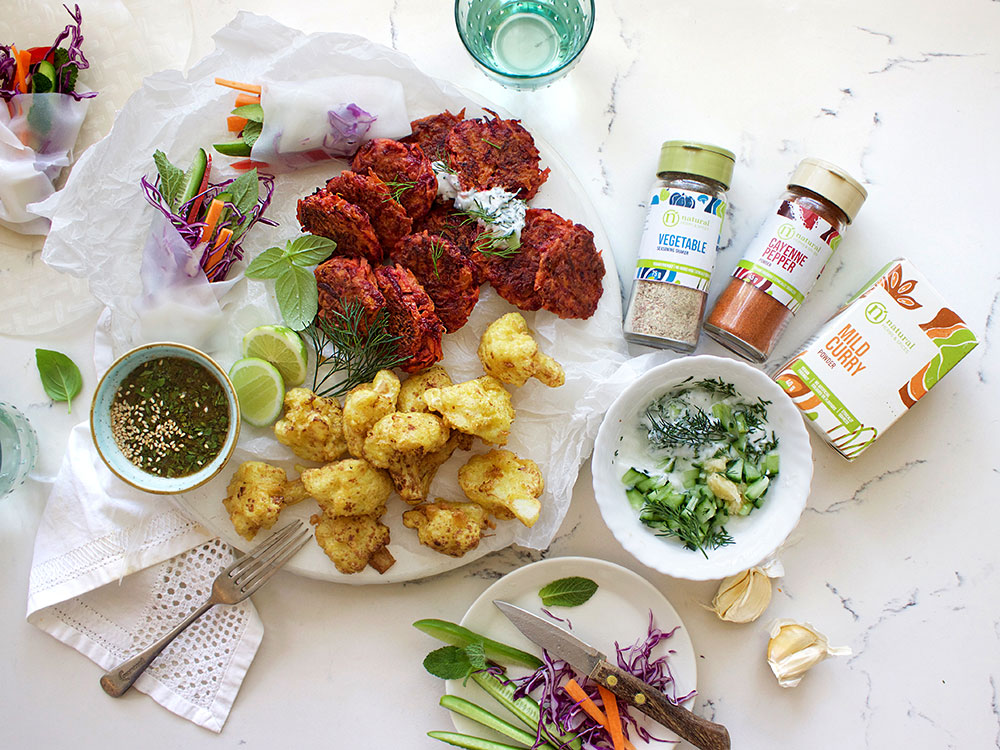 What you will need
FOR THE CARROT AND BEETROOT FRITTERS WITH HERB RIATA
FOR THE CARROT AND BEETROOT FRITTERS WITH HERB RIATA
FOR THE HERB RIATA
FOR THE FRITTERS
1 cup full cream yoghurt
2 cups grated raw carrots
1 small clove garlic, finely minced
1 cup grated raw beetroot
Third of a cup finely chopped cucumber
Third of a cup plain flour
6 sprigs of fresh dill, finely chopped
1 large egg
4 mint leaves, finely chopped
1 tsp Natural Herbs & Spices Vegetable Seasoning Shaker
A few twists of Natural Herbs & Spices Himalayan Pink Salt and Black Peppercorns, to taste
Vegetable oil for frying
Method
CARROT AND BEETROOT FRITTERS WITH HERB RAITA (Makes 12 small fritters; Prep: 20 mins; Cook: 20 mins)
Method:
Combine all the herb raita ingredients together and place in the fridge to infuse whilst you make the fritters.
Use your hands to squeeze as much as possible juice out of the beetroot and carrots. (The beetroot especially will release quite a lot of juice. This step is essential or else your fritters will contain too much moisture to crisp up. But don't throw that juice away, it's a powerhouse cocktail of good-for-you stuff, so drink the juice!)
Combine the carrot and beetroot with the flour, egg and Natural Herbs & Spices Vegetable Shaker Seasoning. Mix thoroughly. Place a non-stick pan on medium-low heat and add just one tablespoon of vegetable oil. Spoon small tablespoon-size dollops of the veggie mix into the pan and use an egg lift to flatten them slightly. Fry until crispy and golden on both sides. (NB: if your heat is too high, the fritters will burn on the outside and not be cooked inside, so be patient and keep the heat medium-low.) Serve right away with the raita for dipping. These are seriously moreish, so you may want to double up on the recipe!
RAINBOW RICE ROLLS WITH SPICY ASIAN DIPPING SAUCE (Makes 12 rice rolls; Prep: 30 mins; Cook: 0 mins)
Ingredients:
For the dipping sauce:
Juice of 2 limes
Zest of 2 limes, grated as finely as possible
1 Tbsp dark soy sauce
3 Tbsp runny honey
¼ tsp Natural Cayenne Pepper
1 Tbsp sesame oil (the light one, not dark sesame oil)
1 Tbsp finely chopped coriander leaves
For the rainbow rice rolls:
2 large carrots, sliced into thin strips
1 cup red cabbage, very finely sliced (use a mandolin if you have one)
6 small snacking cucumbers, finely sliced
mint leaves
basil leaves
½ red pepper, finely sliced
12 rice sheets
Method:
Combine all the dipping sauce ingredients together and set aside so that the flavours can develop.
Soak the rice sheets in cold water for 10-15 minutes until they soften. Place a rice sheet on a damp towel and place veggies and herbs in the middle of the sheet. Fold over the bottom and sides to cover the filling and form a roll. Repeat with the rest of the sheets. Serve with the dipping sauce. (Note: The dipping sauce is delish, you'll want to dip more than once! So for hygiene reasons, rather give each person an individual ramekin of dipping sauce instead of a shared one.)
CURRIED CAULIFLOWER FLORETS (Serves: 6; Prep: 15 mins; Cook: 5 mins)
Ingrediets:
1 head of cauliflower, broken into small florets
½ cup cornflour
¼ cup plain flour
¼ tsp salt
3 tsp Natural Mild Curry Powder (or Medium if you prefer a spicier result)
1 extra large egg
¼ cup ice-cold sparkling water
Vegetable oil, for frying
Method:
Cook the cauliflower florets in fast boiling water for one minute, then remove cauliflower and shock the florets by immersing them in ice cold water. Drain the cauliflower on kitchen paper to dry. (If the cauliflower is wet when you batter it, you won't get crispy batter.)
It's important to use your tempura-style batter as soon as you've made it, so heat a deep saucepan with 7cm oil to 170 ºC while you quickly whip up the batter. Simply combine the cornflour, flour, salt and curry powder. Whisk the egg and stir it into the batter using a balloon whisk. Now add the sparkling water and whisk as fast as possible until the batter is smooth. (This is a very thin batter, about the consistency of thick cream.) Dip the cauliflower florets into the batter and use a slotted spoon to slip the florets into the hot oil. These fry in mere seconds, so keep a keen eye on them. As soon as they crisp up, they must be lifted out and drained on paper towel. (Cook's note: Do not cram the pan and fry them all at once as it will lower the cooking temperature and you will get soggy batter instead of crispy batter.) Serve immediately, whilst super hot and crisp.
Recipe concept & photography by Lizet Hartley.
Lizet Hartley is a freelance stills and reel food stylist, food photographer and recipe developer. In her spare time she – rather predictably – cooks. Get more of her recipes on her blog at http://www.melkkos-merlot.co.za