Autumn is truly with us and new-season crisp apples abound. Turn your morning oats into an extra special treat with toppings reminiscent of one of our favourite autumn puddings, wonderful nut-and-raisin stuffed baked apples. Give it some extra good-for-you oomph by stirring a sachet of our apple-flavoured Balance Booster into your oats as well.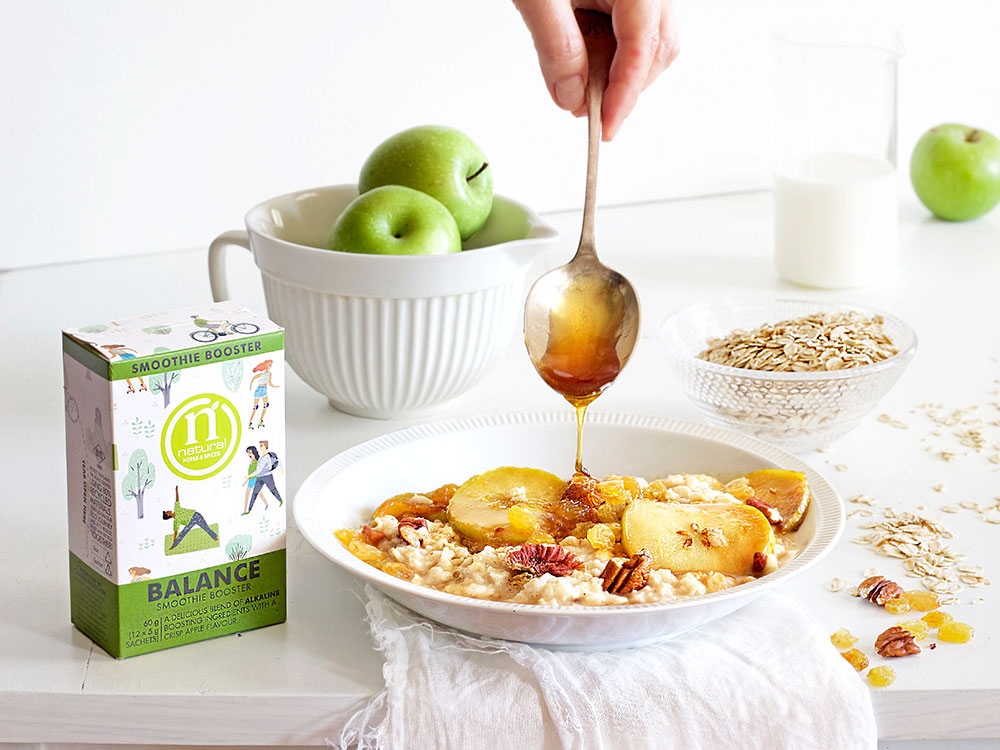 What you will need
FOR THE OATS
½ cup raw rolled oats
½ cup water
½ cup milk
Generous pinch of salt
The ingredients below are for the also for the apple topping
FOR THE APPLE TOPPING
1 apple (Granny Smith is a good variety for cooking and baking)
2 Tbsp honey
1 Tbsp water
1 Tbsp lemon juice
Raisins or sultanas
Pecan nuts
Method
Place the oats, milk, water and salt in a small saucepan and cook over low heat, stirring occasionally, until the oats are cooked. Make the apple topping while the oats cook. Simply slice the apple any way you like. Add it to a saucepan with the honey, water and lemon juice and cook over high heat for a few minutes until the apples start softening caramelizing. Top cooked oats with apples, raisins and pecan nuts. If you like it sweeter, simply add a drizzle of honey or maple syrup to your oats. And don't forget to stir in your Natural Herbs and Spices Balance Booster too!
Recipe & photography by food stylist and blogger of everything yum, Lizet Hartley: http://www.melkkos-merlot.co.za