Mackerel with Apple and Fennel
Light, fresh, healthy and packed to the brim with flavour – that's how we like to eat in summer. This recipe for mackerel with apple and fennel ticks all the boxes. Being an oily fish, mackerel is very rich in good-for-your-heart Omega 3! The tartness of the apple and aniseed freshness of the fennel forms a perfect foil for all that richness. And then there's the herby, lemony dressing. Need we say more? Just delish.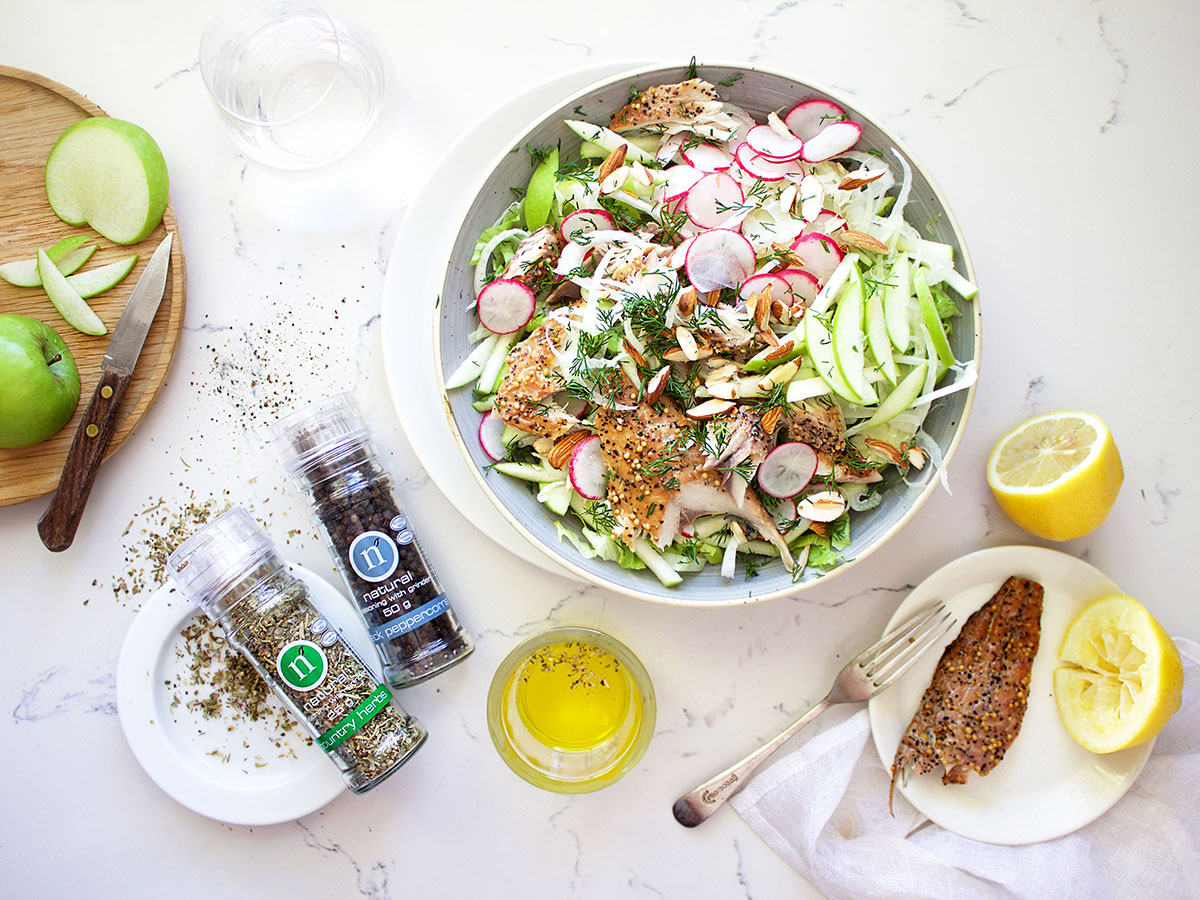 What you will need
2 smoked, peppered mackerel fillets
¼ iceberg lettuce, finely shredded
2 Granny Smith apples, sliced into matchsticks
FOR THE DRESSING
1 large fennel bulb, very thinly sliced
3 Tbsp extra virgin olive oil
Half a lemon
4 Tbsp fresh lemon juice
6 radishes, very thinly sliced
6 twists of Natural Herbs & Spices Ground Black Pepper
2 tsp nonpareils baby capers
10 twists of Natural Herbs & Spices Country Herbs
¼ cup raw almonds, roughly chopped
Small pinch of salt
5 sprigs of dill, leaves only, roughly chopped
2 Tbsp Dijon mustard
Method
Toss together the apple and fennel and squeeze over the juice of half a lemon to stop it from browning. Add fennel and apple to the lettuce, radish and capers.
Scatter over almonds and sprinkle over dill. Top with large chunks of mackerel.
Whisk together all the dressing ingredients until emulsified. Serve up with dressing on the side.
Recipe concept & photography by Lizet Hartley.
Lizet Hartley is a freelance stills and reel food stylist, food photographer and recipe developer. In her spare time she – rather predictably – cooks. Get more of her recipes on her blog at http://www.melkkos-merlot.co.za